Posted By john on 22nd August 2016
  
Inside and outside views of St John's Church, Dudley
Back in early 2011 Oakham Research Managing Director, John Poole met with Deb Brownlee, Chair of the St John's Church Preservation Group. The group were set up following the decision to close the church 14 years ago. Deb has led the campaign to re-open the church culminating in the historic handover of the keys on 17th August 2016.

John Poole of Oakham Research (second left) with (left to right) Maria Millward Bottley, Keith Jeffries and Deb Brownlee of St John's Church Preservation Group
John describes his initial thoughts following that first meeting:
"When I first met Deb at Netherton Arts Centre I felt that this project resonated with the aspirations I had for my research and consultation agency. It was a project within the local community which received widespread support from local residents. The church is not only a key historical building but also a focal point for the community which transcends religious and cultural boundaries. In all my years of undertaking community consultation I have rarely seen a community rally, as they have done, in Kates Hill behind this cause."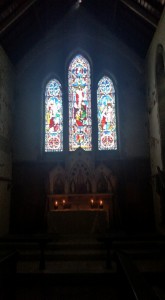 Intact stained glass window inside St John's Church, Dudley
So how could Oakham Research help to make re-opening a reality:
"I knew that Deb had the vision and the capability to make the church building work for the community. We discussed ideas around what could be achieved and how to deliver these goals. What the preservation group needed to do was to convince the Diocese of Worcester that such grand sounding ideas were feasible and had the support of the community. That's where Oakham Research came in. We undertook a wide ranging consultation with local residents in the form of a comprehensive survey to gather ideas and opinions. At first, I had reservations about the length of the survey – the questionnaire ran to 49 pages with over 25 open ended questions. It was set up as a web survey, with a hard copy version for those not internet enabled. But with nearly 600 responses it provided the evidence base to take to the Steering Committee and underpin the business case."
"I believe that this comprehensive evidence base delivered an overwhelming argument to the Diocese that the church was viable as a community based asset. A further strand of work involved Oakham Research interviewing key supporters and future stakeholders on a one to one basis to supplement the public feedback."
As the Market Research Society states "Evidence Matters", and Oakham Research proved this to be the case for St John's Church Preservation Group.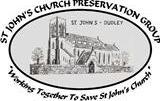 'John Poole of Oakham Research was introduced to me by a mutual friend. He saw the vision of what could be done with historic St John's straight away and started to help immediately . There is no doubt the quality of the research and his presentations helped to swing the pendulum in our direction, as he was able to harness the evidence of the public support in a quantitative and convincing way. His research supported the business plan and informed the St John's Church Steering Group. He continues his association with us as a member of our Expert Advisory Panel and we recommend him very highly.' – Deb Brownlee – Chair of St John's Church Preservation Group
Tags:
---
Posted By john on 21st November 2014
On Wednesday 19th November 2014 John Poole of Oakham Research was elected as Regional Vice Chairman, by his peers at the Staffordshire and West Midlands Region AGM of the Federation of Small Businesses. John has added this Regional Officer position to the post of Vice Chairman for the Black Country Branch. The Staffordshire and West Midlands Region is made up of the four branches of Black Country, Burton Lichfield & Tamworth, Birmingham and North Staffordshire. The Staffordshire and West Midlands Region will be hosting the FSB Annual Conference at Birmingham  International Convention Centre next march.
John stated "It is an honour to serve the Staffordshire and West Midlands based members of the FSB for the next 12 months as Regional Vice Chairman. To do so in a year in which the region is hosting the Annual Conference is even more important. As I set out in my election speech, I aim to use my time as Regional Vice Chairman to campaign for less red tape and unnecessary form filling both for small businesses themselves and within the FSB. My focus will be on supporting and promoting members and bringing my particular marketing and market research skills to the assistance of the regional committee. I sincerely thank all those that voted for me at the AGM."
Tags:
---
Posted By john on 14th November 2014
At the AGM of the Black Country Federation of Small Business last Wednesday evening, John Poole of Oakham Research was re-elected as Vice Chairman. John commented "Thank you to all those of you who have supported not only myself but the whole committee over the last 12 months. It is a testament to the work the committee has undertaken that my fellow officers were also unanimously re-elected. We are working hard to promote small local businesses by working with local authorities, the LEP and other institutions within the area."
Tags:
---
Posted By john on 23rd October 2014
John Poole of Oakham Research presented "Market Research Secrets" at the Black Country branch FSB members evening in October. Running a practical session which demonstrated how market research can help small businesses, John started by asking attendees to answer a mini questionnaire which was then incorporated into his presentation.
"We make better decisions when we base them on the intelligence we gather. Better decisions help ensure future viability and better returns on investment" John explained. The presentation covered the technical aspects of market research together with understanding the psychology and human nature which can lead to false positives. Areas covered included Questionnaire Design, Sampling, Analysis and Insight.
The Powerpoint presentation can be found in the presentations section of the Oakham Research website.
Tags:
---
Posted By john on 21st October 2014
John Poole of Oakham Research was interviewed by Mark Williams on local Stourbridge radio station 102.5 The Bridge on Friday 3rd October.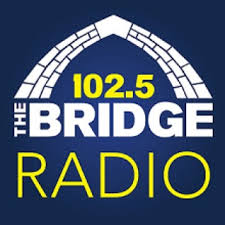 John explained the difference between different forms of market research and the reasons why organisations spend money on gaining insight. "Successful Market Research can make a massive difference to the performance of a business. Understanding your customers is a key requirement in order to ensure that your product or service is fit for purpose. Most customers don't leave due to price or cost, customer satisfaction is the main driver for retention" John stated.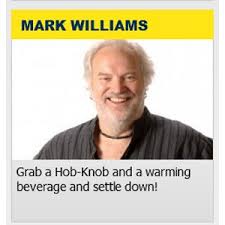 Mark Williams of 'The Bridge'
Mark went on to quiz John about how market research is used to predict election results and understanding how to avoid false positives from research bias.
John is a member of the Business Forum panel on Bridge Radio and can be heard at 2pm on the first Friday of the month when he is joined by regular contributors Mick Davies (MAD Computer Solutions), Paul Brindley (Midlands Business Recovery), Jackie Casey (Express Train) and Gerald Cooper (Cooper Financial Services).
Tags:
---
Posted By john on 25th November 2013
John Poole, Managing Director of Oakham Research was elected Vice Chairman of the Black Country Branch of the Federation of Small Businesses at the recent AGM. John has been an active Committee Member over the last 12 months and has also served on the Staffordshire & West Midlands Regional Committee.
"Small Businesses make up a vital part of the economy and are key to driving forward both economic growth and sustainable employment. The FSB are a key player in ensuring that small businesses get the opportunity to grow and prosper. My involvement in the FSB runs parallel to the support we provide to our clients here at Oakham Research. While the FSB supports small businesses through lobbying on their behalf and a range of specific value for money products, Oakham Research allows businesses who otherwise would not have the ability to undertake research to gain competitive advantage through cost effective solutions.
I'd like to thank members for having the faith in my abilities to vote me into the role of Vice Chairman. I'm committed to provide a professional and effective approach to carrying out my duties over the next 12 months with the aim of making the Black Country Branch a vibrant and useful resource for small businesses locally."
John Poole
Tags:
---