Posted By john on 22nd August 2016
  
Inside and outside views of St John's Church, Dudley
Back in early 2011 Oakham Research Managing Director, John Poole met with Deb Brownlee, Chair of the St John's Church Preservation Group. The group were set up following the decision to close the church 14 years ago. Deb has led the campaign to re-open the church culminating in the historic handover of the keys on 17th August 2016.

John Poole of Oakham Research (second left) with (left to right) Maria Millward Bottley, Keith Jeffries and Deb Brownlee of St John's Church Preservation Group
John describes his initial thoughts following that first meeting:
"When I first met Deb at Netherton Arts Centre I felt that this project resonated with the aspirations I had for my research and consultation agency. It was a project within the local community which received widespread support from local residents. The church is not only a key historical building but also a focal point for the community which transcends religious and cultural boundaries. In all my years of undertaking community consultation I have rarely seen a community rally, as they have done, in Kates Hill behind this cause."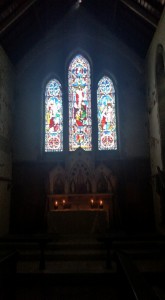 Intact stained glass window inside St John's Church, Dudley
So how could Oakham Research help to make re-opening a reality:
"I knew that Deb had the vision and the capability to make the church building work for the community. We discussed ideas around what could be achieved and how to deliver these goals. What the preservation group needed to do was to convince the Diocese of Worcester that such grand sounding ideas were feasible and had the support of the community. That's where Oakham Research came in. We undertook a wide ranging consultation with local residents in the form of a comprehensive survey to gather ideas and opinions. At first, I had reservations about the length of the survey – the questionnaire ran to 49 pages with over 25 open ended questions. It was set up as a web survey, with a hard copy version for those not internet enabled. But with nearly 600 responses it provided the evidence base to take to the Steering Committee and underpin the business case."
"I believe that this comprehensive evidence base delivered an overwhelming argument to the Diocese that the church was viable as a community based asset. A further strand of work involved Oakham Research interviewing key supporters and future stakeholders on a one to one basis to supplement the public feedback."
As the Market Research Society states "Evidence Matters", and Oakham Research proved this to be the case for St John's Church Preservation Group.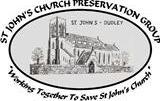 'John Poole of Oakham Research was introduced to me by a mutual friend. He saw the vision of what could be done with historic St John's straight away and started to help immediately . There is no doubt the quality of the research and his presentations helped to swing the pendulum in our direction, as he was able to harness the evidence of the public support in a quantitative and convincing way. His research supported the business plan and informed the St John's Church Steering Group. He continues his association with us as a member of our Expert Advisory Panel and we recommend him very highly.' – Deb Brownlee – Chair of St John's Church Preservation Group
Tags:
---